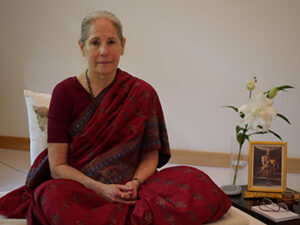 Study is an essential part of spiritual practice. It incorporates direct instruction and independent reflection.
Rohini offers both weekly classes that you can attend virtually via WebEx, as well as self-study courses to which you can subscribe online.
Rohini teaches group classes in both general practice and scriptural study. She has taught many sacred scriptures and other texts over the years, including the Yoga Sutras, the Siva Sutras, the Bhagavadgita, the Pratybhijnahrdayam, the Vijnanabhairava Tantra, the Jnaneshwari, the Upanishads, the Bhakti Sutras, and the Philokalia.
Every Tuesday evening Rohini holds Satsang, a combination of question-and-answer and meditation. Every Tuesday afternoon is Global Satsang, which starts at 2:00pm EST and includes students from Europe and beyond.
Meditation also takes place Friday evenings. Once a month, Rohini holds an extended morning meditation from 5am to 8am; every other month, the session continues after a one-hour break from 9am to noon. Please check the schedule.
Classes can be attended by videoconferencing. If you are interested in attending, register for a class here and contact Rohini.
Group classes are recorded and available through subscription. The Sapphire subscription allows access to an extensive archive of audio and video classes. Through subscription, students can access Rohini's teaching from anywhere and pursue their practice more rigorously.
Self-contained video and audio course packages are also available. Two are based on Rohini's published books; the other instructs students in the true practice of meditation. These courses provide a solid foundation in spiritual practice.
New blog posts are added to the site every week, and anyone subscribed to one of the online courses will receive each week's post via email.