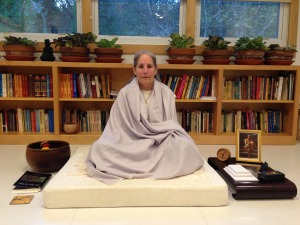 Study is an essential part of spiritual practice. It incorporates direct instruction and independent reflection.
Rohini teaches group classes in both general practice and scriptural study. She has taught many sacred scriptures and other texts over the years, including the Yoga Sutras, the Siva Sutras, the Bhagavad Gita, the Pratybhijnahrdayam, the  Vijnanabhairava Tantra, the Jnaneshwari, the Upanishads, the Bhakti Sutras, the Philokalia and the sermons of Meister Eckhart.
Every Tuesday evening Rohini holds Satsang, a combination of question-and-answer and meditation.
Meditation also takes place Friday evenings. Every other Friday meditation is preceded by a half-hour of chanting. Once a month, Rohini holds an extended morning meditation from 5am to 8am, with a pot luck breakfast afterward; every other month, the session continues after breakfast from 9am to noon. Please check the schedule.
Individual direction is available as appropriate, as is direction for couples. Sessions last 40 minutes. This form of study requires sincere and sustained commitment to spiritual practice, and to following Rohini's guidance.
Both group classes and individual lessons can be attended in person or by videoconferencing. If you are interested in attending, contact Rohini.
Group classes are recorded and available through subscription. The premium subscription allows access to an extensive archive of audio and video classes. Through subscription, students can access Rohini's teaching from anywhere and pursue their practice more rigorously.
Self-contained video and audio course packages are also available. Two are based on Rohini's published books; the other instructs students in the true practice of meditation. These courses provide a solid foundation in spiritual practice.